More Information on our Location
Address
Technische Universität Wien
Institut für Logic and Computation 192-02
Forschungsbereich für Datenbanken und Artificial Intelligence

Favoritenstraße 9
A-1040 Wien, Austria

Phone:
+43 (1) 58801
1922-01 (Fr. Auerböck)
Email:
Office hours: Mon-Thu 9:00-11:00
Wide Area Situation
We are located in the fourth district of Vienna, right next to the City in the greater area of Karlsplatz. If you come from the airport, you can use the regular bus service between the airport and the City Air Terminal to get into Town. There is also a train service. Furthermore shuttle services and taxis are available.
Public Transport
If you want to use Public Transport, try to get onto U-Bahn Lines U4, U2 (exit Karlsplatz) or U1 (exit Taubstummengasse).
Local Area Situation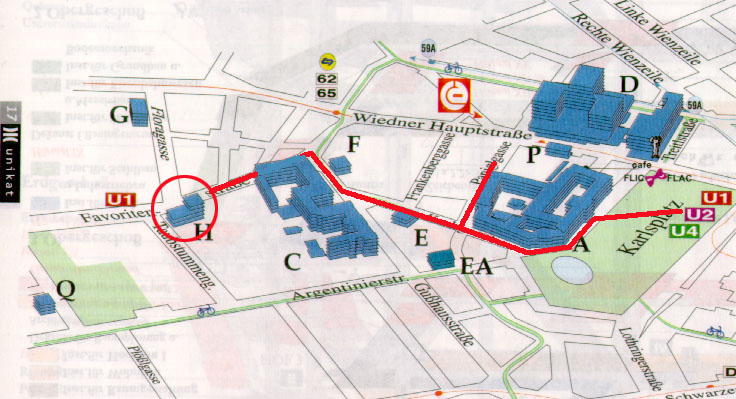 (Mit freundlicher Genehmigung von unikat - Operngasse 9. 1040 Wien.)